Key Roles of LPG in Realizing Long-Term Contributions
to the Environment and Resilience (Sustainable Recovery)
Attached document 1: Other policies involving LPG
Following is the summary of the GOJ's energy policies and action plans in connection with the LPG industry in addition to the outline of the relevant issues such as SDGs and the Paris Agreement that are closely linked to context of this report;
1. Strategic Energy Plan
The GOJ released its 5th Strategic Energy Plan in July 2018. Under this plan, direction for further development of our social economy, improvement of citizen's life and contributions to the sustainable development of this world were shown based on the stable, long-lasting and autonomous energy supply. It also emphasized the importance of realizing a stable energy supply & demand structure with less burden on the economy as well as on the environment under the principle of S+3E (Safety, Energy security, Environment and Economic efficiency).
With regard to LPG, which accounts for 3% of primary energy and 5% of final energy consumption in Japan, the GOJ placed an emphasis on its status as a "Last Resort" energy supply in case of disasters, while committing itself to reviewing a relevant measure for further enhancement of disaster response capability.
2. National Resilience Plan
The National Resilience Plan was legislated in June 2014, and was revised in December 2018. Under the basic concept of the revised Plan, additional policies were shown such as building an "autonomous, decentralized and cooperative" national land infrastructure as well as strengthening measures against climate change. The Plan also indicated the importance to seek energy diversification of transport fuels.
Furthermore, the Plan urged that the LPG industry should strive to reinforce its disaster response capability on its distribution infrastructure by securing and maintaining the national LPG stockpile, in addition to maintaining and strengthening the functions of LPG filling stations as well as to promoting installation of private power generators at key facilities (such as evacuation centers) while regularly replenishing the stockpile in preparation for disasters.
3. Long-term Strategy under the Paris Agreement
The GOJ's "Long-term Strategy under the Paris Agreement" was submitted to the secretariat office of the UN Framework Convention on Climate Change in June 2019 after the cabinet adoption, and was released at the G20 Osaka meeting so as to show the GOJ's standpoint to commit to the Paris Agreement.
Following is the summary of the strategy:
| | |
| --- | --- |
| 1) | Aiming to accomplish its ambitious and ultimate goal of "decarbonized society" as early as possible in the second half of this century with a decision to boldly take measures towards reducing GHG emissions by 80% by 2050. |
| 2) | Implementing actions to realize a "virtuous circle of environment and growth" through the swift and discontinuous business-driven innovation with an aim of contributing to the world and establishing a bright future. |
This strategy emphasizes the importance of achieving a decarbonized society while maximizing the co-benefit with other SDGs as well as the contribution to climate change thought the implementation of the "Society5.0" (described below) which shows a direction towards resolving social issues and creating values by means of a digital revolution, people's imagination, and creativity with the harmonic interactions in the energy, mobility, and digitalization fields.
4. Strategy for Revolutionary Innovation of the Environment
An enormous amount of money will be required for realizing the above-mentioned Long-term Strategy under the Paris Agreement. Based on the government's estimates, seven trillion US dollars per year worldwide will be required to achieve a two-degree centigrade target. It will need further costs to realize the promise of our more ambitious efforts - a 1.5 degree centigrade target.
In order to reduce GHG emissions at global level, it is crucial to develop discontinuous innovation and to implement it into society without delay at an attainable cost.
The "Environment Revolution Strategy" released in January 2020 by the GOJ was based on the aforementioned Long-term Strategy and consisted of the following three points:
| | |
| --- | --- |
| 1) | "Innovation Action Plan" which stated concrete cost targets for five fields and 16 technical issues. |
| 2) | "Acceleration Plan" which stated the research system and measures to promote investment to realize them. |
| 3) | "Zero Emission Initiatives" which will correspond and be co-created with global leaders to realize the social implementation. |
Under this strategy, it is aimed to develop innovative technology and its implementation into society for realizing a carbon neutral world by 2050 in line with a goal stipulated in the strategy.
5. Society 5.0
Under the "5th Basic Plan for Science and Technology" issued in 2018, the GOJ proposed the realization of a super smart society called "Society 5.0". It follows the current information society called "Society 4.0" where various environmental and social problems have surfaced the world while digital technologies have witnessed a significant progress and new era called Digital Transformation (DX) is approaching. In "Society 5.0", people would become able to create new values through their imagination and creativity derived from the use of DX. Also, "Diversity," "Decentralization," "Resilience" and "Sustainability while living with nature would be the key phrases. It aims to build a society in which whoever, wherever, whenever – everyone could live safely together with nature and could create value.
6. ESG Investment
CSR (Corporate Social Responsibility) is understood to be the responsibility and mission companies need to promote. On the other hand, under the ESG (Environmental, Social and Governance) concept, evaluations shall be made, considering the company's non-financial status of its efforts and actions on environmental, social and governance factors from the long-term viewpoint of investors.
Particularly in recent years, investment criteria are shifting to take a closer look at company's activities than ever on how the company's business is aligning with the SDGs. This movement is called "ESG" and is becoming more prominent worldwide¥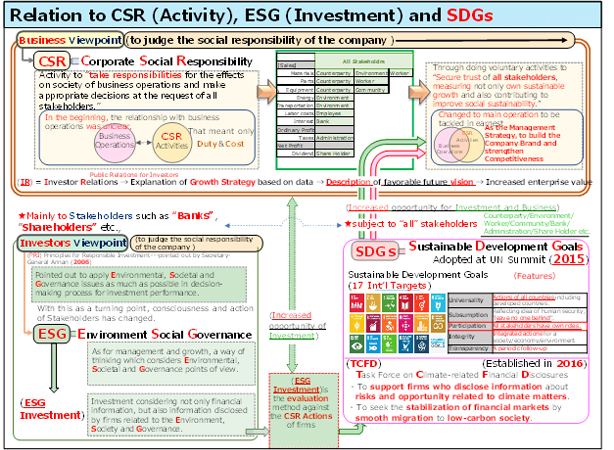 Attached Drawing 1: Relation to CSR, ESG and SDGs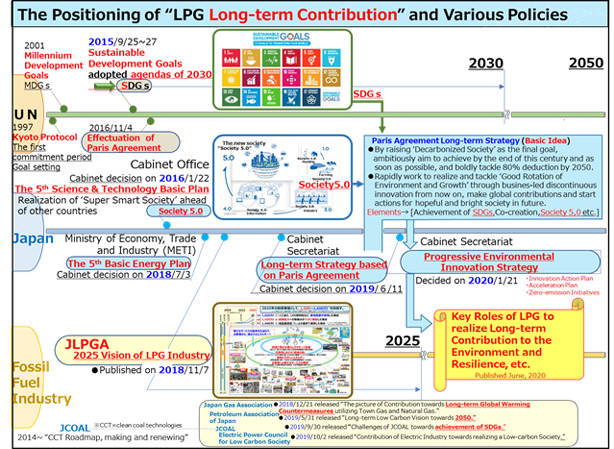 Attached Drawing 2: The positioning of 'LPG Long Term Contribution' and various policies
Attached document 2: Correlation between the SDGs and the roles of LPG
Goal 7:

| Targets | Roles of LPG |
| --- | --- |
| 7.1 By 2030, ensure universal access to affordable, reliable and modern energy services | 3.1 1) Contribute by diversifying LPG supply source and robust stockpiling / distribution infrastructure |
| 7.a By 2030, enhance international cooperation to facilitate access to clean energy research and technology, including renewable energy, energy efficiency and advanced and cleaner fossil-fuel technology, and promote investment in energy infrastructure and clean energy technology | 3.1 2) International contribution by sharing the developmental techniques of LPG apparatus and actions for operational safety in Japan |
Goal 9:

Targets
Roles of LPG
9.4 By 2030, upgrade infrastructure and retrofit industries to make them sustainable, with increased resource-use efficiency and greater adoption of clean and environmentally sound technologies and industrial processes, with all countries taking action in accordance with their respective capabilities
3.2 1) Introduction of IoT and AI technologies to maintain sustainable logistics
3.2 2) Development of revolutionary technology towards decarbonization/hydrogen society (Artificial photosynthesis and Propanation etc.)
3.2 3) Alliance with decentralized Micro-grid System
Goal 11:

Targets
Roles of LPG
11.2 By 2030, provide access to safe, affordable, accessible and sustainable transport systems for all, improving road safety, notably by expanding public transport, with special attention to the needs of those in vulnerable situations, woman, children, persons with disabilities and older persons
3.3 1) Introduction of bulk storage system for disaster
3.3 2) Promoting permanent installation of emergency generators
3.3 4) Promoting LPG vehicles
11.7 By 2030, provide universal access to safe, inclusive and accessible, green and public spaces, in particular for women and children, older persons and persons with disabilities
3.3 3) Promoting LPG-fueled GHP
Goal 13:

Targets
Roles of LPG
13.1 Strengthen resilience and adaptive capacity to climate-related hazards and natural disasters in all countries
3.4 1) Environmental contribution by promoting highly efficient heaters (Reduction of CO2)
13.2 Integrate climate change measures into national policies, strategies and planning
3.4 2) LCI evaluation of LPG and Fuel conversion
3.4 3) LPG vessels
3.4 4) LPG vehicles
3.4 5) Elimination of CFC's (Chlorofluorocarbons)
3.4 6) Activities towards Net-zero-emission of LPG